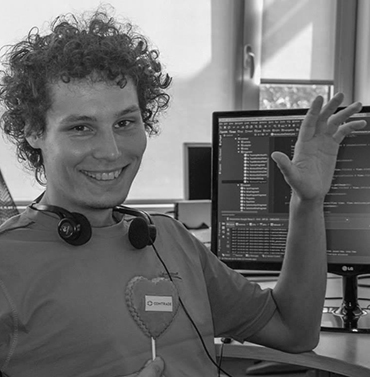 Milos Smiljanic
Software Developer
Your role at Comtrade
1.When did you join Comtrade and what is your current role?
I joined Comtrade on December 1, 2014, the day I graduated. At the moment, I'm working on an Android application that is fitness related. I'm responsible for adding new features to the app, improving design and fixing bugs.
2.What's the best part about working at Comtrade?
I'd have to say it's the friendly and supportive environment. There are many young, ambitious people. We spend a lot of time hanging out at work, but also in our spare time. We like going rafting on Tara. Also, a great thing about Comtrade is that you get to work on many different projects using all kinds of different technologies. Team building activities and working abroad are also great.
Your experience at EDIT
1.Why did you apply for EDIT?
One of my good friends had attended EDIT a year before and told me what an amazing experience it was. Right then, I knew I wanted to apply and eagerly waited for the application process to start.
2.What was your experience at EDIT like? What project did you work on?
The program provided a nice balance of theory and hands-on work. The project my team worked on involved tracing the exact indoor location of a mobile device based on the signals from the iBeacon devices located in that space and building an Android app around that.
3.What is your favorite memory from EDIT?
Nice and creative people and friendships that still last.
4.How did EDIT help prepare you for a career in IT?
EDIT simulated the real working environment really well. As a team, we worked on coming up with solutions for the problems we encountered using real-world methodologies, like Agile and SCRUM and different collaborative technologies, like SVN and Redmine. So when I started working, I had the background that I needed and it didn't take me long to pick up the pace.
Your future at Comtrade
1.How do you see your future at Comtrade?
Bright! I expect to grow both personally and professionally as an expert for mobile development.
2.What would you like to accomplish?
One day I would like to lead a team working on a big and exciting project.