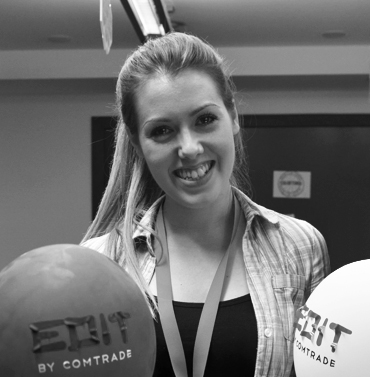 Jovana Stojadinovic
Software Development Associate
Your role at Comtrade
When did you join Comtrade and what is your current role?
I began my internship at Comtrade in October 2018 and became employed fulltime in January 2019. I currently hold the position of Software Development Associate.
What's the best part about working at Comtrade?
Seeing as though my job at Comtrade is my first employment after graduating university, I would first of all have to point out the welcoming work environment that awaited me. The work tempo that was expected of me at the beginning was very realistic and down to earth. Also, the advancement I have made since I started at Comtrade is certainly a direct result of the mentorship I had. Comtrade has fulfilled my expectations in every way and is a great place to work and develop oneself.

Your experience at EDIT
Why did you apply for EDIT?
There is more than one reason behind my applying for EDIT, with a real-world project that has no link with my university as the main reason. I wanted to feel what working fulltime in a real work environment was like. I also wanted to experience working in a team that didn't consist of people I knew well. And I heard from many colleagues about Comtrade and this kind of an opportunity was not something to be passed by.
What was your experience at EDIT like? What project did you work on?
My EDIT experience was more than positive. First of all, I'd like to point out that I was very pleased by how the people working on the project treated me and my fellow students. Every lecture we had, even though most were theoretical, was useful for us to better understand our topic.
The lectures helped us get a better grasp of not only Blockchain basics and the technology required for Blockchain based app implementation, but also other topics that are not so closely knit to this project, such as SCRUM. Through a multitude of examples and various games, we learned what the importance of good teamwork is for completing a project.
What is your favorite memory from EDIT?
EDIT is a two-week experience, so specifying one particular memory is difficult. I remember EDIT as two weeks of fun teamwork, working on a project, doing our best to complete it and learning new essential technologies. But I would like to highlight the unforgettable teambuilding we had – an afternoon spent at the archery club in Kosutnjak.
How did EDIT help you prepare for an IT career?
Edit was a great starting point for my IT career. I learned what working in a real work environment with people I didn't know was like. Not to mention that my employment today is a direct result of attending EDIT.

Your future at Comtrade
How do you see your future at Comtrade?
I was able to see myself improving technically, as well as in communicating and working with my team, even though I've been at Comtrade for only a few months. With that in mind, and the understanding of Comtrade up to now, I'm sure that I'm in for a lot more knowledge and experience in the time to come, mostly thanks to my more experienced colleagues.
What would you like to accomplish in the future?
Through working at Comtrade, I expect to gain more expertise in my field and become a full-fledged team member in the time to come, particularly regarding independence and responsibility in developing apps.