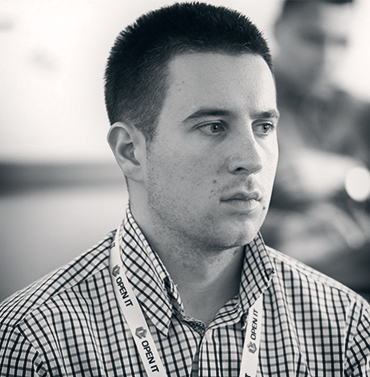 Dušan Jovičić
Data Science Intern
Your role at Comtrade
1. When did you join Comtrade and what is your current role?
I've joined Comtrade SI this February and my current role is Software Developer in Data team, but I'm also participating in some projects with the software development team, which is very interesting to me since there's always a lot of new stuff I can learn.
2. What's the best part about working at Comtrade?
My experience at Comtrade is exceptional so far, but if I must choose one thing, I'd say awesome and hardworking people that I work with. Their passion for what they do and will to share their knowledge give me a lot of motivation to keep learning and improving myself.
Your experience at EDIT
1. Why did you apply for EDIT?
I've applied for EDIT to see how a real-working environment looks like, to learn something new and, of course, to work with young IT students that share the same goals.
2. What was your experience at EDIT like? What project did you work on?
Except for the knowledge, I've got amazing memories. I've met a lot of people from many different countries and we had a lot of fun working together. We worked on a cloud-based application for notifying users about subscribed topics, using Google assistant which includes many technologies, such as Google Cloud Platform, Firebase, Dialogflow and, of course, Node.js.
3. What is your favorite memory from EDIT?
I have a lot of them, but one of my favorite memories is when we encountered a big problem to solve, and though we barely knew each other, we've joined our strengths together and solved it. The passion we all had as a team that day still inspires me.
4. How did EDIT help prepare you for a career in IT?
More than I expected, because in that two weeks I've experienced exactly what I'm living now and one of the key things that I've learned is that nothing is impossible and that there are no limits.
Your future at Comtrade
1. How do you see your future at Comtrade?
Firstly, I hope that this situation with the virus will end up soon so we can go back to the offices. I'll work hard to improve myself, to learn more about the upcoming technologies, and, hopefully, I'll contribute to Comtrade's growth.
2. What would you like to accomplish in the future?
I'd like to make progress on a daily basis, as well as to be a part of Comtrade's top projects, while enjoying in it every single moment.