Inspiring future generations of IT professionals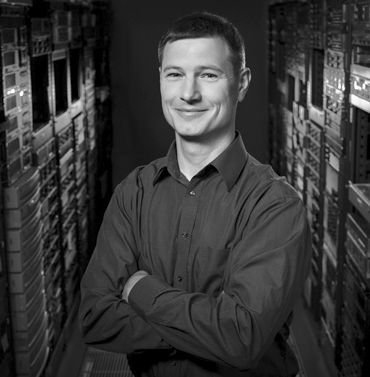 Saso Erzen
Project and Account Manager
Your role at Comtrade
1. When did you join Comtrade and what is your current role?
I joined Comtrade in 1998 as a part-time student. At that time, those joining the company usually went through HP\Omniback school. That gave me a very solid engineering foundation that I could build my future upon.
My primary role is Project and Account Manager for hi-tech customers located in the DACH region.
Yet like anyone at the company, I also take on other roles when necessary. I'm often involved in technical presales for embedded and medical related projects. There are two projects that are keeping me busy lately – the redesign of Electronic Shelf Labels (you can see them in action at E.Leclerc) and obtaining an ISO 13485 certification for Comtrade (QMS for Medical Software development).

2. So far, what has been your greatest accomplishment at Comtrade?
I can think of a few. The most notable accomplishment, at least to me personally, was the delivery of three product releases to one of our customers in the medical industry – each on time, within the planned budget and to customer's great satisfaction. Each project lasted 12 months and I was leading a team of eight people. What made it notable for me was that my role focused less on project management and more on team engagement and technical leadership. Great team, delivering great results – what else is there?
Your role at EDIT
1. Why did you decide to become a mentor?
I was involved in some of the initiatives started within Comtrade at the beginning of 2014, such as Smart Energy, M2M and IoT. I was asked to help out with ideas for EDIT 2014, and together with my colleges, we have compiled a list of eight potential projects. The project for EDIT 2014 was prepared a few days later and I fell in love with it.
2. What do you find the most fulfilling about being a mentor?
EDIT gives you the possibility to step out of your daily work. It's no secret – people experience fulfillment when helping others to achieve their goals. Every time I walk into the EDIT classroom, I would experience a burst of energy (well, Snickers also helped occasionally).
3. Why is it important to have a summer school like EDIT?
With the passage of time, technology has become very vital to human beings and it has gotten to the point where we cannot image our life without it. Technology makes our lives a lot easier. Projects at EDIT usually address real problems from everyday life and we ask students to try to solve these using different technologies. If we can encourage young minds to use available technology to make a better tomorrow, and at the same time have fun and learn something new, then I think EDIT fulfilled its mission.
Words of wisdom
1. What advice do you have for the next generation of EDIT students?
Be yourself, unleash your curiosity and remember – it's teamwork that counts.